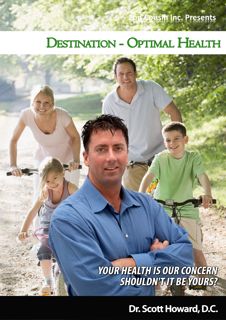 Meet Dr. Scott Howard
I have been in practice for 19+ years and have built a Wellness practice which involves improving the 6 interferences to the nervous system. In addition to improving the lifestyles of my patients, I also use techniques to eliminate the 6 interferences of health which are Structural, Nutritional, Emotional, Detox, Allergies and Electromagnetic interference of the body. I also use A.M.I.T. to turn on those muscles that have neurologically shut down due to over-worked or strained muscles. Once these issues have been resolved, the body can make great improvements in health.
I strive to give the best care whether it be minor pains or major chronic problems. I use Applied Kinesiology which helps as a diagnostic tool for all 6 interferences. I also use Detox methods, Rehab and soft tissue therapy. I try to instill health and wellness education to my patients as well as groups outside the office. I speak on topics such as stretching, nutrition, general health facts, toxins and other important related topics that the average person may not have been properly informed about.
I was interviewed by a talk show some time ago about the way I treat patients. If you would like to listen to it click the link under this.
Dr. Scott Howard D.C.          *Parker Graduate